Penguins in Puñihuil, Chiloé, Chile
When I decided to visit the island of Chiloé back in January, I knew that I really wanted to visit the penguin colony in Puñihuil. My preliminary trip research had revealed that there was a small colony of Humboldt and Magellanic penguins that breed together on the small islands (islets) just off the coast of Puñihuil. Even better, it was easily accessible from Ancud, making it a lot easier than some of my other trips to see penguins over the years.
I woke up early in Ancud to figure out how to get to Puñihuil. I'd read that there were public buses, and my hostel had the bus schedules posted to make things even easier. I set out on what seemed to be a grey day, so typical for Chiloé, but to my delight, the clouds cleared away later on, leading to beautiful views throughout the day.
As it turns out, the bus I'd hoped to take only runs in high season, which had yet to really start in Chiloé. Since it was a Saturday, my other options were limited. Instead, I could take a tour, so in the interest of keeping things simple, I signed up.
Mirador Cabeza de Vaca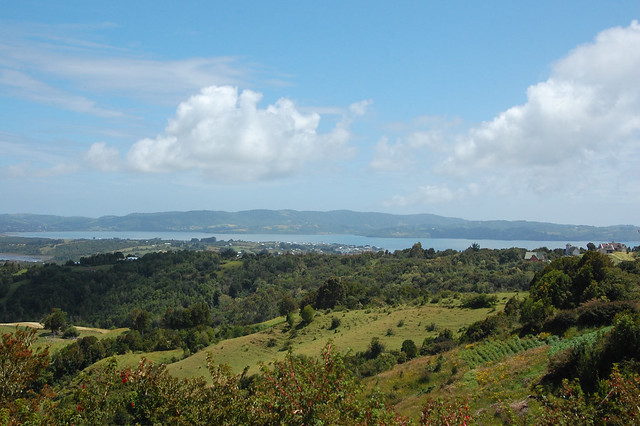 Views over the Farmlands of Chiloé from Cabeza de Vaca
As I had similarly discovered during my tour to Parque Nacional Isluga in northern Chile, going with a guide ended up being a very good idea. Before heading to see the penguins, we took a detour to the Mirador Cabeza de Vaca, a road that leads up a dirt road towards the top of a hill. From here, you can see the ocean on a clear day and appreciate the gorgeous green hills of Chiloé's rich farmland.
I was completely smitten. I had been curious about Chiloé rural landscapes, and without even expecting it, I was surrounded by green farmlands brightened up by summer wildflowers.

Views of the Farmlands of Chiloé from Cabeza de Vaca
As it turns out, this area is called Cabeza de Vaca due to the shape formed by the land – it looks like a cow's head, apparently.

Golden Fields Looking Over the Island of Chiloé
Whatever the reason for the name, I appreciated the chance to take in the landscape spreading out all around us. Being able to see the surrounding land from a high vantage point helped give me a better idea about what Chiloé is really like.

Amazing Landscapes of the Green Hills of Chiloé
It's one thing to hang out in an awesome city by the water; it's quite another to see the fertile island for what it is.

More Green from the Vantage Point of Cabeza de Vaca, Chiloé
Mirador Piedra Run

Seaside Views of the Coast of Chiloé
From there, we descended back towards the main road leading towards Puñihuil, back towards the coastline. With the sun now breaking through the clouds, we were able to appreciate the turquoise blue of the ocean.
The views from Mirador Piedra Run gave me a great perspective on the cliffs leading down to the beach. Look at how green the foliage is! After living in the desert for so long, I was used to beige cliffs covered in dirt, not these luscious green ones.
Coastline of Chiloé
According to our guide, there are many stories that speculate about this rock sitting all by itself on the coastline. Perhaps it conceals treasure?

Turquoise Blue Ocean Along the Coast of Chiloé
As we continued our approach to Puñihuil, the ocean turned a magnificent shade of turquoise blue. I almost can't believe that this color is real! Unspoiled coastline and beautiful views over the water. Amazing.
Pinguineras de Puñihuil

Schedules at the Penguin Colonies at Puñihuil
After a pleasant drive with many lovely views, we arrived at Puñihuil. Puñihuil is a tiny set of buildings built right along the coastline, including several businesses offering boat tours to see the penguins and their accompanying restaurants to feed you when you're done.
You can see the bus schedule above – it's possible to head directly to Puñihuil but I was happy to have seen the views along the way. As you see, there are many boats that take tourists out to see the penguins, although I'm not sure I would name one Titanic if it were up to me…

Ocean Views at Puñihuil, Chiloé
After putting on our life preservers, we boarded a little cart and were pushed out to the boat, avoiding getting our feet we. And then we were off, heading away from shore towards the penguin colonies. It was nice to see the expanses of turquoise all around me.

Seabird in the Ocean near Puñihuil, Chiloé
Due to the popularity of the penguin colonies and the need to protect their habitats, there are now strict regulations on how closely boats can approach the rocky islands that the penguins and other birds have made their homes. Bring a zoom lens!
For once, I had remembered to bring mine, which is how I got these up close shots of the penguins. So adorable! I love them.
We floated near the penguin colonies, just watching them be their adorable, goofy selves.
What's that grey guy doing there? Is he a young penguin or just a visiting seabird?
This penguin was looking right at us! Probably tired of seeing so many tourists pass by his house.
After approaching the penguins on the tinier islands, we headed around to the other islands, where the penguins had more space to walk around and do their thing.

A Pair of Penguins at Puñihuil, Chiloé
After checking out the penguins, the boat turned around gave us a chance to appreciate the coastline from the vantage point of the ocean.

Seagull Hanging out in Puñihuil, Chiloé
Look at that beautiful coastline!
As you can see, Puñihuil is just a small grouping of buildings along the beach, which have sprung up to meet the needs of the tourists. CONAF, Chile's national park service, operates from here as well, protecting the interests of the wildlife.
Boats in Puñihuil, Chiloé
And after a pleasant spin around the penguin colonies, we were back to the beach, just in time for lunch.
While my tour companions headed off to lunch, I decided to wander up and down the beach, seeing what else the little outpost had to offer. Since the summer season was about to take off in full force, there were a couple of artisans selling their wares on the beach. As it turns out, there is also a trail run by CONAF that takes you up the cliff to get some great views of Puñihuil, if you have time to climb up there.
On the way back, I sat in the front of the van next to our tour guide, who began to tell me stories of real life in Chiloé, rather than the version often sold to tourists. As I've mentioned, Chiloé has always been a world apart from the rest of Chile, a island community dedicated to agriculture and fishing. He had grown up in the farmlands without much money, without even shoes to wear to school, and this was a very common story. After working hard in school, and with support of a relative, he finally moved to Ancud where he studied and eventually learned to drive, which over the years led him into guiding tours (very commonly in Chile tour guides do double duty as the van/bus drivers).
One day, he led a group on a tour – and one of the tourists happened to be a schoolmate who remembered him from those days when he didn't always have enough food to eat at lunch. The two marveled about how far they had come from those days. But as he told me the story, his face grew dark, for all the same reasons that Chiloé is currently in crisis.
With the only access off the island limited to taking a bus ride or a very expensive ferry trip with a car, the costs of basic goods remains very high, with many people only earning minimum wage. He was all for the plans to construct the bridge and make it easier for normal people to drive to Puerto Montt to buy what they needed, instead of having to pay excessive markups on products brought in by others, or having to miss a full day of work to shop on the mainland.
What became clear to me as he talked was just how complex Chiloé's reality is, beyond the stories of myths and legends told to outsiders. It will be interesting to see how things change for the island after the massive outcry after the devastation of the red tide. (More info about the current crisis on my post about Ancud and recent interviews providing additional insight here.)
It makes me sad to think how the red tide has probably affected Puñihuil, which was so vibrant and full of ocean life on my visit. I am glad I got a chance to see part of what makes Chiloé so special on my visit, and I hope this crisis brings change to Chiloé.
Recommendations for Puñihuil, Chiloé, Chile:
Although there are a few public bus options to get to Puñihuil, especially during the summer season, I was actually really happy that I took a tour to Puñihuil for two reasons: the tour includes the drive through Cabeza de Vaca, where I saw the gorgeous farming landscape, and because I had an excellent conversation with my tour guide on the drive back, where he really helped me understand the reality of life on Chiloé. I went on the tour with Chiloé Viajes, and it cost $15000 CLP in January 2016.
For this reason, if you decide to take a tour, make sure to ask if the tour involves a trip to Mirador Cabeza de Vaca and Mirador Piedra Run on the way to Puñihuil.
There are several different tourism groups in Puñihuil – each tour company takes you to their preferred boat company and recommends their preferred restaurant. If you drive there yourself, you have several options, and each of them include free parking. I'm pretty sure all of the boat tours are the same, due to the regulations governing the penguins' habitat.
The other advantage of finding your own transportation or driving is that you'll have time to walk around the Monumento Natural Islotes de Puñihuil, which has a trail to a viewpoint operated by CONAF, the Chilean parks service. I skipped eating lunch at the restaurant and wandered around a bit, but didn't realize that the trail would have been worth my time until I saw pictures later.
[Puñihuil, Chiloé, Chile: January 2, 2016]