Views from Horseback Riding near Mendoza, Argentina
In March 2002, I discovered something about myself that I had not suspected: I love solo travel.  I found this out because I booked an independent trip to Mendoza, Argentina, stayed in my first ever hostel, and met three awesome porteños (Argentines from Buenos Aires) who are still my friends over a decade later.  Visiting Mendoza in 2002 changed my life, sparked my wanderlust, and opened my mind to the relationships you can make through travel.
For these reasons, I was both excited and nervous to head back to Mendoza.  After a lackluster experience in Salta, I wasn't sure how I would feel about this lovely city.  At the same time, I knew Mendoza attracts many more travelers than La Rioja and Tucumán, and I was ready for some socializing and more adventurous tourism, like horseback riding, rafting, and biking.  I was also excited to do some serious wine-tasting; in 2002, I didn't drink, so I'd skipped the wineries, if you can believe it!

Horseback Riding near Mendoza, Argentina
Immediately upon arrival in Mendoza, I was reassured; the city was just as lovely as I remembered it.  As always, I grilled my taxi driver for information on how the economic crisis had affected Mendoza, and learned that both the wine industry and regional tourism were booming, which had ensured Mendoza's continued loveliness.
Upon arrival to Hostel Empedrado, I learned that they organized many tours, excursions, and in-hostel activities.  I was excited to finally have people to do things with, and booked a horseback riding tour the next day.
Relaxing in the Andes near Mendoza, Argentina
As it turned out, there were just three of us that day, Monika from Germany, Jacob from the UK, and me, along with our lovely guide, Juan, and our driver.   Monika and Jacob both spoke Spanish pretty well, which was a relief for Juan and me, as he didn't speak much English and I was tired of translating for free. 😉
We left Mendoza bright and early, heading for the foothills of the Andes.  The hostel has an agreement with one of the gauchos there and rents horses that are treated with respect.  We got settled on our horses and began our climb through the greenery of the hills of the Cuyo region.  The path was easy and scenic and we were able to appreciate our surroundings.  We paused near a stream to give our horses a break and relaxed in the branches of a massive tree.  This was Juan's favorite spot, but he'd neglected to bring the traditional mate, opting for over-sweetened English tea which none of us drank. 😛

Horseback Riding Near Mendoza, Argentina
After resting, we continued along our route, chatting, enjoying the rhythm of riding horses, and observing the changes in the vegetation as we ascended and descended in elevation.

Horseback Riding Near Mendoza, Argentina
On our way back to the ranch, where lunch was awaiting us, we galloped with our horses, always a thrilling experience for someone like me who only rides horses when traveling. I was especially glad I'd had some recent practice back in Salta!

Horseback Riding Near Mendoza, Argentina
As it turned out, I ended up getting injured on the ride, as my horse took off on a gallop as we passed some spiny branches on a low bush, gashing my shin. Juan felt terrible as he'd forgotten the first aid kit, but I took it all in stride, as I'm pretty injury-prone. 🙂
Back on at the ranch, we sat down for our lunch, a typical Argentine parrilla (barbecue) with roasted vegetables and salad for me. 🙂  We played with the adorable dogs who vied for our attention and drank the red wine that Juan had brought to accompany our lunch.

Adorable Dogs Near Mendoza, Argentina
It was turning out to be a relaxing afternoon of good conversation, cheap wine, and lots of laughter, and then Juan brought out the guitar for a sing-along.  I tried to accompany him, but our tastes in music are very different and I didn't know too many of the songs he played.

Enjoying an Afternoon of Wine and Music Near Mendoza, Argentina
Before long, it became clear that we were in for a treat.  We were soon joined by our driver, who had grown up in the Cuyo region.  While we were on our horses, he'd talked to our host and both men quickly realized that they had gone to school together!  They decided to serenade us with traditional songs from the Cuyo region.

Gaucho Songs and Wine Near Mendoza, Argentina
Juan kept the wine flowing and informed us that the songs we were hearing were rare gaucho songs that few people know today.  We sat transfixed by the music, the intimacy of our gathering, and a relaxing wine haze.
You can hear one of the old gaucho songs in my video; I went crazy photographing and filming this magical experience.

Juan Performing Magic Tricks Near Mendoza, Argentina
Speaking of magic, Juan is a street performer with an arsenal of tricks, which he demonstrated for us.  He even taught Monika one of his tricks on the way back to Mendoza. 🙂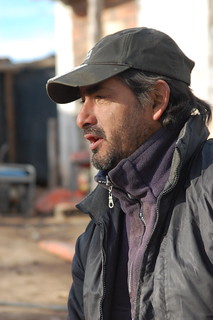 Music and Laughter Near Mendoza, Argentina
After we polished off the rest of the wine, we said goodbye to our gaucho friends and headed back to Mendoza.  I was adamant that we drink mate together at the hostel, and in my chatty state I invited a number of other guests to partake in this traditional Argentine experience.

Making Empanadas at Hostel Empedrado, Mendoza, Argentina
Afterwards, I convinced Juan and Monika to make empanadas with me.  We taught Monika to fill and fold the empanadas, and she took some with her on her overnight bus ride to Buenos Aires.
But this lovely day was not over yet!  It was Saturday night and I was ready to embrace the Mendoza nightlife, so I rallied up a group from the hostel, including a group of awesome Irish travelers who became my buddies over the next few days.  We headed to Por Acá for a night of dancing until nearly dawn; it was the perfect start to my week in Mendoza. 
Recommendations for Mendoza, Argentina:
Stay at Hostel Empedrado or its sister hostel, Hostel Mora.  I thought Hostel Empedrado was the best hostel I stayed at in Argentina because of all the bonuses it offers for a very reasonable price (if you don't believe me, believe these reviews).  There are two kitchens, a free laundry machine, plenty of space to hang your clothes to dry on the roof, a wine happy hour with free wine, wine tastings, comfortable common areas, good rooms, clean bathrooms with plenty of hot water, and awesome staff.  When I stayed there, they offered their own excursions, including the horseback riding one profiled above, so you could just arrange your trips with them.
[Mendoza, Argentina: July 26-27, 2013]