View of Huancayo from Torre Torre
Let's go back in time a couple of years. One of the goals of my #100daysofsouthamericanmemories project has been to revisit the second half of my extended backpacking adventure back in 2013, sharing stories and photos on Instagram and picking up the narrative where I left off here on the blog.
Before I moved to Chile at the end of 2014, I was enthusiastically sharing stories about my travels in central Peru. Visiting the sierra central (central Andes) was one of my travel dreams and the first opportunity I had to really get to know Peru off the beaten track. I started in Ayacucho, headed into the mountains of Huancavelica, and then took the Tren Macho to Huancayo.
Because that trip marked a changing point in my life, the memories are as vivid as ever, and it has been powerful to share snippets of life on the road in short Instagram posts. As hoped, this has created the necessary momentum to pick up the threads from three years ago and keep on weaving this blog, which I still hope will help readers consider other destinations that take you deeper into the heritage of this fascinating region of the world.
So let's go!
Central Huancayo
Huancayo is imprinted on my memory as one of my favorite cities in Peru. I was enthusiastic about visiting Huancayo because many of the families I worked with in Huaycán were originally from Huancayo, and I was curious to learn more about this very agricultural and very artistic region.
I pulled into Huancayo on a train the day before my 32nd birthday, curious what the city had in store for me. Well, there was one thing for sure: a lot of rain. It says a lot about the city that the fact that it rained consistently throughout my stay didn't mar my high esteem for Huancayo and the Junín region.
As always, I dropped off my heavy backpack and headed directly to the Plaza de la Constitución, Huancayo's main square, where I admired the cathedral and got my bearings. Because Huancayo is relatively close to Lima, there were a number of Peruvian tourists milling about, but I only spotted a handful of fellow foreigners in my week there.
The commercial center of Huancayo is relatively compact, walkable, and easy to navigate. You can visit the pretty plaza where the municipality building is located and head to the (commercial) artisan market. A few blocks away, you'll likely spot the blue towers of the Iglesia Maria Inmaculada (much more beautiful on a sunny day, but what can you do?).
But the real action in the center of Huancayo happens around the shopping mall, Real Plaza Huancayo, and the giant market located next door. Nearly all the combis and micros (small and large local buses) follow Av. Ferrocarril, and it's where you'll catch buses to the amazing destinations I'll talk about in future posts. And let's be honest: the mall is a good warm place to hang out during torrential winter rain storms and Starbucks has wifi. 🙂
Cerrito de la Libertad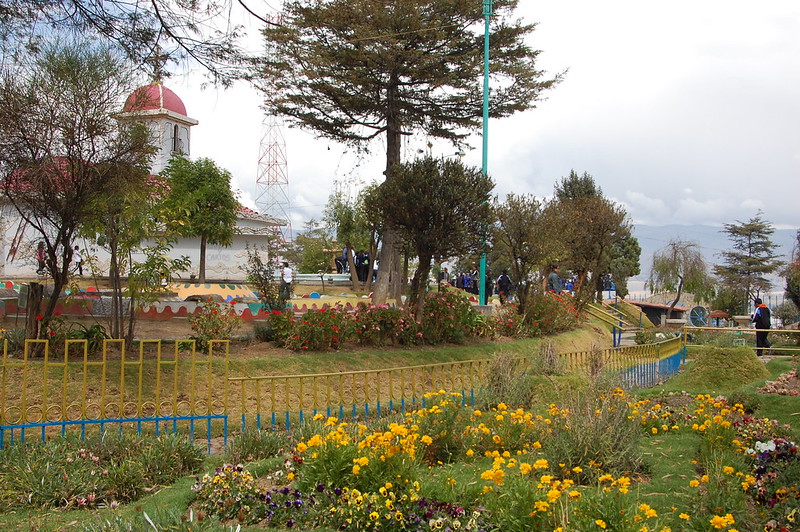 But if we're being honest, Huancayo's appeal lies in its creative parks, located all over the city. Cerrito de la Libertad, located up a steep hill en route to Torre Torre, is filled with beautifully landscaped flower gardens, a pleasant gazebo, and a playground for kids (as well as a small zoo).
Cerrito de la Libertad is provides a good vantage point over the city, although for the best views you should continue up to Torre Torre.
Torre Torre
As I continued climbing into the hills of Huancayo towards Torre Torre, I was struck by the different atmosphere just a couple of kilometers outside the hectic downtown area. Suddenly I was out of the commercial buildings and into the simple brick constructions typical of the farmlands that are found throughout the Valle de Mantaro.
After following the signs leading to Torre Torre, I ended up at these fascinating rock formations, shaped like towers (hence their name). I'm a big fan of red rocks, so these certainly did not disappoint!
The sun even managed to peek out from behind the clouds for a couple of pictures. Visiting Torre Torre felt otherworldly for a moment, as I faced the rocks away from the houses behind me.
As I was standing there admiring the view, I heard a woman call to me from below; she was herding her goats at the base of the rocks and suggested I get a different view from that angle. Nervously watching the skies and unsure of my climbing ability, I decided not to scramble down (or up). When no one knows where I am, I tend to err on the side of caution.
But I definitely was sure to admire the views as I descended back through the neighborhoods on the outskirts of town. Word to the wise – be careful what route you take through Cerrito de la Libertad on your way back, as neighborhood dogs can be aggressive.
Parque de Ajedrez
On the other side of Cerrito de la Identidad you find the Parque del Ajedrez, a small park dedicated to the game of chess (which is quite popular in Peru).
Totally worth stopping by if only to admire the creativity of the stoneworkers who set up this homage to chess.
Thankfully, at this point I was just a few blocks from my hostel, because the skies decided to open up as I arrived back. Saved by the bell once again!
Parque de la Identidad Wanka
On my last day in Huancayo, I was determined to visit Parque de la Identidad Wanka, another creative park dedicated to the culture of the region. As I've mentioned (and as you'll see in future posts), Huancayo and the Junín region represent a fascinating intersection of farmlands and agriculture, rich indigenous traditions, skilled master artisans, and remnants from the Spanish colonial era.
All of this comes together in the unique Parque a la Identidad Wanka, or Huanca, where all these aspects are celebrated.
Even though the rain was constant, I spent some time wandering through this stone mosaic park (but sadly left my dSLR in my hostel). Here you see a sculpture honoring the mates burilados, gourds carved with a technique involving burning intricate tiny designs. (I'll share more in my post on Cochas Chico, the town where this tradition has become an art form.)
Other statues honor distinguished musicians, dancers, and even a photographer who are from this region. The Wanka influence on Peru's folkloric traditions cannot be understated. The huaylas dance is one of the most popular forms of huayno.
Of course, we cannot forget the adorable sheep that you see throughout the countryside. I love that the pastoral heritage of Huancayo and Junín is celebrated in art; I think it's part of what makes this region so special.
So cute. And check out the detail on these stone mosiacs! I'm just going to let the rest of the photos speak for themselves. Such a cool park with so many nooks and crannies to explore and appreciate.
Feria Dominical
If you are planning a visit to Huancayo, I implore you to go the the Feria Dominical, or Sunday market, held in the center of town. Several streets close down to traffic and fill with stand after stand after stand of vendors selling their wares. The fair is so large that there are actually dedicated sections where you can find certain things sold together, such as clothes together, artesanía together, housewares, etc.
Although I don't have any photos from the fair, it was an amazing experience and some of my most treasured textiles are from this fair. Artisans commute from Huancavelica, six hours away, in order to sell their art, as well as from nearby towns like Hualhuas. This means you have a selection of regional textiles and weavings sold by the artisans themselves.
It takes some wandering among the stalls to find the best art, but many of the artisans have won awards for their art. I actually had already met a couple who had been invited to sell their wares in a special artisan fair in Miraflores in Lima; I recognized their high quality items and style!
If you love Peruvian textiles and crafts, you need to go here to see all the amazing handmade pieces of art. As you may already know, I tend to take my love for folk art to the next level and travel to the towns and regions where they originate whenever possible (such as Ayacucho and Huancavelica, of course), but if you're short on time, planning to be in Huancayo on a Sunday is a very good idea.
Recommendations for Huancayo, Junín, Peru:
Huancayo is one of my favorite cities in Peru and I recommend that you go if you like independent travel and want to get a deeper insight into what life is like in the central Andes. Because Huancayo is located on the Carretera Central (central highway), it is super easy to get around using public transportation. Huancayo is also a central hub for regional destinations and easily accessible from Lima.
I stayed at Hostel Samay, a family run guesthouse located about eight blocks from the center of Huancayo. It is totally walkable and is close to the Real Plaza Huancayo for ease of access to the supermarket as well as the public buses. It is located near the Cerrito de la Libertad and Torre Torre. I stayed there for a week and got to know the family and would recommend this hostel if you want to feel looked after and get great insight into the history and culture of the region.
As a vegetarian, I ate at Govinda's Restaurante Vegetariano several times. There are other vegetarian restaurants but this one is located near the main plaza and has lots of seating.
Be sure to eat papa a la huancaina while in Huancayo. This potato dish with a creamy cheese sauce is typical of the region. If you visit in winter, be sure to drink a calentito at one of the local bars. Interestingly, the windows of the bars are blocked from the street so no one can see who's drinking inside.
I traveled extensively on combis (local buse) throughout Huancayo and the Junín region, and future posts will detail some of the towns you can visit to expand your understanding of the region.
If you can, take the Tren Macho to or from Huancavelica. It's a unique experience and the safest, easiest way to travel between the two cities.
Be sure to check out the Feria Dominical on Sunday. If you love artesanía, you won't regret it.
For great photos of Torre Torre from some daredevil travelers, read this blog post. If you read Spanish, this blog post has excellent information about the Huancayo parks (and great pictures if you don't!). This is an interesting article about the huaylas dance (in Spanish).
This is a well-written blog documenting an American couple's temporary residence in Huancayo, with great photos of their life and travels around the region.
There are lots of possible day trips from Huancayo. I went to Paccha, the Bosque Dorado, and Cochas Chico to see the mates burilados and took myself on a self-guided tour of the Mantaro Valley, visiting Hualhuas, San Jerónimo de Tunan, Concepción, and Santa Rosa de Ocopa. Check out that post for more info on other places to see nearby. I also visited the Wariwillka ruins at Huari and the tiny historical town of Chongos Bajo.
If you want to take a tour, you can see more in one day. A lot of Peruvian tourists decide to see the Huaytapallana Glacier, visit Laguna de Paca or Laguna de Nahuinpuquio, or make it up to Jauja and the ruins at Tunamarca. I saw quite a lot, but would have seen more if it hadn't been raining so much!
Leaving Huancayo, many people visit Tarma, also in Junín, or take the Chanchamayo jungle tour. I headed to Huánuco. If you haven't seen Huancavelica at this point in your trip, you should find your way there!
There is a lot of useful, up-to-date information on the Huancayo Wikitravel page.
[Huancayo, Junín, Peru: August 22-28, 2013]