Gorgeous Clouds and Hills of the Valle de Elqui, Chile
What comes to mind when you think of Chile? For many, Chile evokes the images of snow-capped peaks, lush vegetation, infinite hiking paths, and perhaps even blue-toned glaciers spreading across the Andes. Patagonia is one of Chile's biggest draws, and visiting Torres del Paine is a bucket list dream of many (including me!).
Perhaps you think of the lakes region, particularly the picturesque island community of Chiloé with its distinctive architecture. Maybe you're intrigued by the haunting desert landscapes of San Pedro de Atacama, or the up-and-coming surf havens of Arica and Iquique. You may have heard some buzz about the colonial architecture attracting expats to the seaside city of La Serena, or the massive capital city of Santiago and all its history interests you.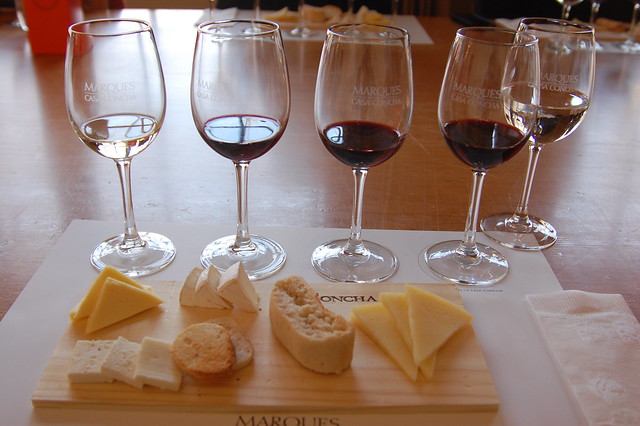 Wine Tasting at Concha y Toro, Santiago, Chile
If you enjoy wine, you've likely learned to appreciate Chilean cabernet sauvignon, or the rediscovered carmenere, from the many fertile valleys around the country. Chile hosts many world class wineries, competing with the delicious options from nearby Mendoza, Argentina.
And of course, star lovers head to my current home of the Elqui Valley (Valle de Elqui), recently covered in the New York Times. Fans of artisanal liquors are also more than happy to sample the variety of piscos in this area (though I still prefer Peruvian pisco – sorry!).

Views from Isla de Pascua, Chile
Clearly, there are a lot of things to love about Chile. I haven't even mentioned my favorite destination, Rapa Nui (more commonly known as Easter Island or Isla de Pascua).
Even with all of these amazing landscapes, I have struggled to connect to Chile like I did to Peru. I've mentioned that it's taken me some time to readjust my expectations and find my routine in my new reality. Many Chileans have suggested that the north takes more getting used to than the south, just because the people here tend to be more suspicious of outsiders. I remember my guide in San Pedro de Atacama mentioning that he had the same problem when he moved there, and he's Chilean!
While I may still find myself on the outside of Chilean culture, there are a number of aspects of life in Chile that I've come to embrace.
1. Marrequeta
Chileans are famous for their bread consumption. They rank second or third in the world for the amount eaten annually, depending on your source. While there are various types of bread popular in Chile (see this handy guide here!), I prefer marrequeta, the fluffy, crusty bread. While not all marrequeta is equally delicious, you will never forget a recently baked marrequeta that melts in your mouth. Many gringos complain about eating so much bread, but I keep my daily consumption to one marrequeta and haven't gained weight yet.
2. Queso crema
Queso crema is Chileans answer to cream cheese, and I like it so much better! It usually comes in a tube and you cut off the top, revealing just enough space for your knife. It is spreadable and has just the right amount of tang. Marrqueta with queso crema is my new favorite breakfast.
3. Loose leaf tea with a sliver of cinnamon stick (té con canela)
Chileans also rank highly for their consumption of tea, due to the fact that they drink it twice day. While loose leaf tea was hard to come by in Peru, you can easily find it in any supermarket in Chile, bags and bags of affordable ceylon tea! Here, I learned that Chileans have the custom of slipping in a sliver of cinnamon stick into their mug while the tea brews, giving it a nice flavor.
4. Té or once tradition
As mentioned above, most Chileans eat bread and drink tea twice a day, part of a meal called té, or more commonly, once. Instead of having dinner, Chileans opt for a big almuerzo and have a small meal in the evening. Even though our host families provide us with dinner, I am also happy with the té tradition, and enjoy the fact that it is always served with an elaborate presentation and a variety of options to top the bread. Sometimes people eat once comida, which can mean a delicious slow cooked onion mix with eggs, or some other light meal.

The Best Empanadas I've Had from Paladar Artesano, Vicuña, Chile
5. Empanadas
While my recent trip to Buenos Aires reminded me that Argentines are the masters of empanadas, Chilean empanadas are still delicious. Chilean empanadas tend to be oversized and turn into a filling meal. I particularly like the empanadas I can find in Vicuna at a small restaurant called Paladar Arte-sano, where there are a number of vegetarian options.

6. Fresh squeezed orange juice
I remember traveling in Bolivia in 2007 and discovering that I could buy inexpensive, freshly squeezed orange juice from a vendor in the plaza. Imagine my joy wandering the streets of Providencia and stumbling across the same thing! Lucky for me, I live in a house next to an expansive orchard which is currently overflowing with oranges. I also have a simple but effective machine that quickly and efficiently squeezes the oranges. This means I can have orange juice whenever I want this season.
7. Homemade dulces
Chileans certainly have a sweet tooth, but it tends towards fruit marmalades and dulces, or sweet bricks of concentrated fruit preserves. I personally prefer my fruit fresh (see above!), but I can't complain about the occasional slice of dulce de manzana or spoonful of apricot marmalade with chunks of preserved fruit.
8. Kiwis
I am not sure exactly where kiwis grow in Chile, but I do know that they are more common and much more affordable here than anywhere else I've lived. Kiwis are one of my favorite fruits (okay, I like all fruit), so I'll happily eat as many as I can while living here.
9. McKay cookies
Even though I don't usually eat packaged cookies in my normal life in the US, I do like being able to buy tubes of cookies for a quick snack at school. I am a fan of McKay brand cookies, which are not too sweet and have lots of good flavors. I am especially a fan of the coco, tiza, and triton cookies.

Enjoying the Chilean Tradition of Salad
10. Salads
Chileans may have a meat, dairy, and bread heavy diet, but they also love their salads! In the lunch room at school, the other teachers are always eating a variety of salads as part of their almuerzo, and at any formal gathering with family or friends, you are likely to have at least two salads. Salads are usually one or two ingredients, such as tomato and cucumber, broccoli and carrot, or some combination thereof. I am a big fan.
Picking Palta in the Valle de Elqui, Chile
11. Picking my own fruit
One of the things I most enjoy about my living situation is the access to the orchard. When I arrived in summer, peaches and plums were plentiful, and then figs and grapes came in. Now it is the season of limes, oranges, avocado (mi querida palta), and guavas. I even found a pecan tree and tried out some quince (membrillo). From my city girl perspective, having your own orchard is a dream come true so I am going to enjoy it while it lasts. Now that I've talked about all the food customs and options I love about Chile, it's time to mention a couple of aspects of Chilean culture that are equally appealing.
12. WhatsApp
While WhatsApp is not a Chilean phenomenon, it is the primary form of communication among everyone here. Work, play, you name it – people are going to chat with you on WhatsApp rather than calling, texting, or emailing. Instead of asking your phone number, people ask if you have WhatsApp. I have fully adjusted to the range of emoticons now available me, after being someone who rarely chatted online in the last 10 years.
13. Karaoke
I am not sure if this is specific to the region I live in, but Chileans here sure love their karaoke. I have always been a fan and it is a cheap and easy form of entertainment on the weekends. Sometimes when we are bored on weeknights we rehearse our songs for weekend gatherings.
14. Natural wool
One thing I was delighted to find here is 100% natural Chilean wool. Despite the fact that Peru produces tons of high quality sheep and alpaca wool, it was always hard to find affordable, non-acrylic wool. Chileans also tend to knit in acrylic, but I've been able to find plenty of gorgeous natural wool in yarn shops in Vicuna, La Serena, and Santiago. This keeps me inspired to knit my own 100% Chilean souvenirs, as you see here and here!
15. Ponchos
Speaking of wool, Chilean women love their ponchos. I was shocked by the variety available for purchase in the department stores in fall, and I am always impressed with the ways stylish Chileans wear them. They are useful here because it's usually cold in the morning and ponchos keep the chill off your shoulder while leaving your arms free. I acquired one myself and wouldn't be surprised if I buy another before the winter is over.
16. Receipts and posted prices
Chile is a much more official country than others in South America, which means that prices are almost always posted and usually fixed. I particularly like the fact that it is easy to get receipts, which helps me with my nonprofit expenses. I have never been a huge fan of negotiating and like that I don't always have to be on guard for people raising prices on me because I'm a foreigner.
17. Reading by the river
I figured out over the last few years that I am a person who needs to be near the water, and I am excited that I live within walking distance of the major river here in the Valle. Almost on a daily basis I walk down to the river and sit in the sun reading. It may not be the same as my walks along the Malecon in Lima, but it does the job and keeps me sane.
18. "Aqui estamos"
I am not sure if this is a Valle or northern thing, but often when you ask someone, especially someone my parents' age or older, how they are, they say, "Aqui estamos," or "here we are." While it can seem a little resigned to living out days after endless days, I find it charming. It is usually said with a smile rather than sarcasm, but it makes me laugh every time I hear it.
19. Tía (or Tío)
Another funny thing about Chilean Spanish is that kids are taught to call adults "Tia" (aunt) or "Tio" (uncle). At first it makes you feel old, but you get used to it quickly and it becomes adorable.
20. Gas Heaters
Okay, this is a weird one to end the list, but because it is still cold right now, this one is on my mind. Most Chilean homes don't have a heating system, even though the temperatures in night and day can be drastically different. Here is the Valle, that means that you may be hot in the day and very cold at night or in the early morning. Enter the gas heater, the most common way to heat your room. I like the gas heaters because they are easy to control – gas trucks circle around town several times per day, and gas is relatively affordable. I can decide how much to run my heater rather than having to worry about how much electricity I am using. As a person who is usually cold, I am really enjoying sitting next to my gas heater as much as I want.
As you can see, Chile has a lot of little things that I have learned to embrace during the past six, almost seven months here. With only four months left, I need to take advantage of these things as much as possible, because who knows where I'll end up next!